A Treatise on the Yoga Philosophy - N. C. Paul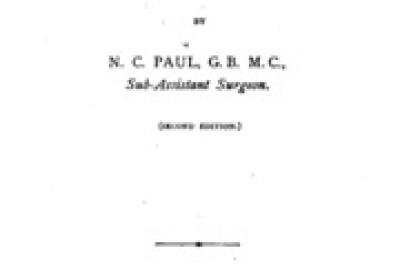 First published 1851.
Mary Neff (1935) in her book Personal Memoirs of H. P. Blavatsky says "N.C. Paul, G.B.M.C wrote a small, but very interesting and very scientific pamphlet. He was only a regimental surgeon in Benares, but his name was well known among his compatriots as a very learned specialist in physiology.  The pamphlet was called A Treatise on the Yoga Philosophy, and produced a sensation amongst the representatives of medicine in India and a lively polemic between the Anglo-Indian and native journalists. Dr. Paul spent thirty-five years in studying the extraordinary facts of Yogism, the existence of which was for him beyond all doubt.  He not only described them, but explained some of the most extraordinary phenomena, for instance, levitation … It was his great friendship with Captain Seymour chiefly which helped him to penetrate some mysteries which, till then, were supposed to be impenetrable.
Note: Mary Neff goes on to talk about Captain as possibly being identified as an English Master.
Download version here:
PDF , this is the second edition printed in 1882.
ePub 1935 version
Mobi - 1935 version 
Azw3 - 1935 version