By John Algeo
Originally printed in the MARCH-APRIL 2006 issue of Quest magazine.
Citation: Algeo, John. "Reincarnation's White Crow: Ian Stevenson and Evidence of Past Lives." Quest 94.2 (MARCH-APRIL 2006):47-51.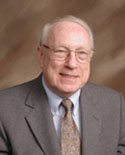 Reincarnation is a hypothesis about what happens to the consciousness of a human being after bodily death. That hypothesis has both simplistic and complex versions, but none of them are subject to laboratory testing because death and rebirth cannot be put into a test tube or under a microscope. Some aspects of the reincarnation hypothesis, however, can be studied with scientific rigor, although the possibility of such study has been widely discounted by those scientists who have mistaken their heuristic techniques for an ultimate metaphysic.